上記の広告は1ヶ月以上更新のないブログに表示されています。
新しい記事を書く事で広告が消せます。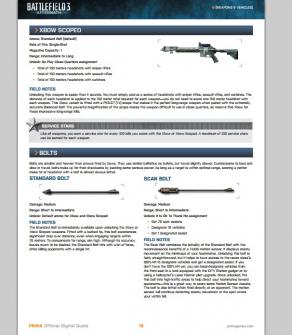 「Aftermath」戦略ガイドが、公開されてました。
こうゆうのは、リリース前だと楽しみが薄れるが
直後に公開されても良いのでは?
関係ないが
クロスボウは、「XBOU」と表記するのかぁ!
「えっくすぼう」と読んでしまったw
Ammo: Standard Bolt (default)
Rate of Fire: Single-Shot
Magazine Capacity: 1
Range: Intermediate to Long
Unlock: Go Play Close Quarters assignment
? Total of 150 meters headshots with sniper ri? es
? Total of 150 meters headshots with assault ri? es
? Total of 150 meters headshots with carbines
FIELD NOTES
Unlocking this weapon is easier than it sounds. You must simply accrue a series of headshots with sniper ri? es, assault ri? es, and carbines. The
distance of each headshot is applied to the 150 meter total required for each weapon?you do not need to score one 150 meter headshot with
each weapon. This Xbow variant is ? tted with a PKS-07 (7x) scope that makes it the perfect long-range weapon when paired with the extremely
accurate Balanced Bolt. The powerful magni? cation of the scope makes the weapon dif? cult to use in close quarters, so reserve this Xbow for
those impressive long-range kills.



STANDARD BOLT
Damage: Medium
Range: Short to Intermediate
Unlock: Default ammo for Xbow and Xbow Scoped
FIELD NOTES
The Standard Bolt is immediately available upon unlocking the Xbow or
Xbow Scoped weapons. Fitted with a barbed tip, this bolt experiences
signi? cant drop over distance, even when engaging targets within
25 meters. To compensate for range, aim high. Although its accuracy
leaves much to be desired, the Standard Bolt hits with a lot of force,
often killing opponents with a single hit.




SCAN BOLT
Damage: Medium
Range: Short to Intermediate
Unlock: It Is OK To Thank Me assignment
? Get 20 spot assists
? Designate 10 vehicles
? Get 1 designated assist
FIELD NOTES
The Scan Bolt combines the lethality of the Standard Bolt with the
reconnaissance bene? ts of a T-UGS motion sensor. It displays enemy
movement on the minimaps of your teammates. Unlocking this bolt is
fairly straightforward, but it helps to have access to the recon class's
SOFLAM to designate vehicles and get a designated assist. If you
don't have the SOFLAM yet, you can laser-designate vehicles from
the third seat in a tank equipped with the CITV Station gadget or by
using a helicopter's Laser Painter pilot upgrade. Once unlocked, ? re
this bolt into high-traf? c areas to help direct your teammates toward
opponents?this is a great way to score some Motion Sensor Assists.
The bolt is also lethal when ? red directly at an opponent. The motion
sensor will continue detecting enemy movement at the spot where
your victim fell.